Welcome to SACI 2013
Authors are welcome to submit original and unpublished papers and attend the IEEE 8th International Symposium on Applied Computational Intelligence and Informatics (SACI 2013) to be held on May 23-25, 2013 in Timisoara, Romania.

SACI 2013 Call for Papers can be downloaded in a pdf file.

SACI conference appaears on the AUSTRALIAN RESEARCH COUNCIL list, in class C.



SACI 2013 Accommodation

In Timisoara there are many hotels and hostels, easily available online. See for example the Yahoo! Travel Guide or Booking.com.

Nearby the Faculty of Automation and Computers building (venue) we offer five possibilities for room reservation: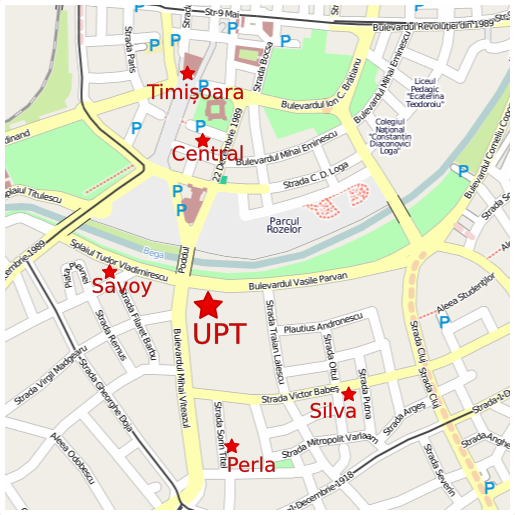 Savoy Hotel **** - 5 minutes away

No. 2 Splaiul Tudor Vladimirescu, 300193 Timisoara
Phone: +40.256.249.900
Fax: +40.256.275.500
Webpage: Booking.com
Room rates:

Single room: 60 EUR
Double Room: 71 EUR
Double Room as single: 64 EUR
Studio Flat: 78 EUR
Suite: 149 EUR
Perla 2 Hotel ***
- 7 minutes away
No. 7 Protopop George Dragomir Street, 300233 Timisoara
Phone: +40.256.495.203, +40.256.499.427, +40.256.228.670
Webpage:
hotelperla.ro
Room rates:
Single: 170 RON
Double: 210 RON
Apartamnt (triple): 250 RON
Central Hotel ***
- 10 minutes away
No. 6 Nicolaus Lenau Street, 300029 Timisoara
Phone: +40.256.490.091
Fax: +40.256.490.096
Webpage:
hotel-central.ro
Room rates:
Single: 160 RON
Double: 180 RON
Silva Hotel ***
- 7 minutes away
No. 25 Victor Babes Bulevard, 300594 Timisoara
Phone: +40.256.201.406, +40.788.191.570
Fax: +40.256.201.406
Webpage:
hotel-silva.ro
Room rates:
Single: 160 RON
Double: 180 RON
Timisoara Hotel ***
- 10 minutes away
No. 1?3 Marasesti Street, 300086 Timisoara
Webpage:
hoteltimisoara.ro
Phone: +40.256.498.862, +40.256.498.852
Fax: +40.256.499.450
Room rates:
Single: 75 EUR
Double: 85 EUR