Welcome to SACI 2013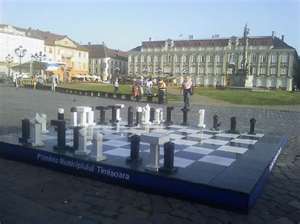 Authors are welcome to submit original and unpublished papers and attend the IEEE 8th International Symposium on Applied Computational Intelligence and Informatics (SACI 2013) to be held on May 23-25, 2013 in Timisoara, Romania.

SACI 2013 Call for Papers can be downloaded in a pdf file.

SACI conference appaears on the AUSTRALIAN RESEARCH COUNCIL list, in class C.



SACI 2013 Registration

REGISTRATION
The registration is completed if you

* filled in the online registration form below,
* arranged the registration fee payment by wire transfer until April 10,
* submitted the final paper until April 10 the latest.

Only one paper can be included into the proceedings by paying one registration fee. For including any paper in the proceedings, it is necessary for at least one co-author to be registered and the registration fee has to be paid in advance until April 10, 2013. Author's second paper costs EUR 20/page.
REGISTRATION FEE
registration fee: EUR 300 (RON 650 for local participants)
IEEE members: EUR 250 (RON 500 for local participants)
students: EUR 200 (RON 330 for local participants)


REGISTRATION FEE PAYMENT
(copy of wire transfer notification is required)

Owner: BOFIKER Exim Srl
Owner address: Str. Nicolae Teclu nr. 40 Cluj 400252 Romania
Bank: Banca Transilvania Cluj
RON IBAN: RO53 BTRL 0130 1202 9245 15xx
EUR IBAN: RO02 BTRL 0130 4202 9245 15xx
Swift: BIC BTRLRO22
EU VAT number: RO10112150
ID message: SACI2013/Participant's Name

Any additional expenses pertaining to banking operations are not included in the registration fee and must be covered by the registrants.

Please, fill in the document when you arrange registration fee payment. These data are necessary to prepare the official receipt.
ONLINE REGISTRATION
Everyone has to fill in the registration form below who attends the conference.